How to Address Mental Health for Students Experiencing Homelessness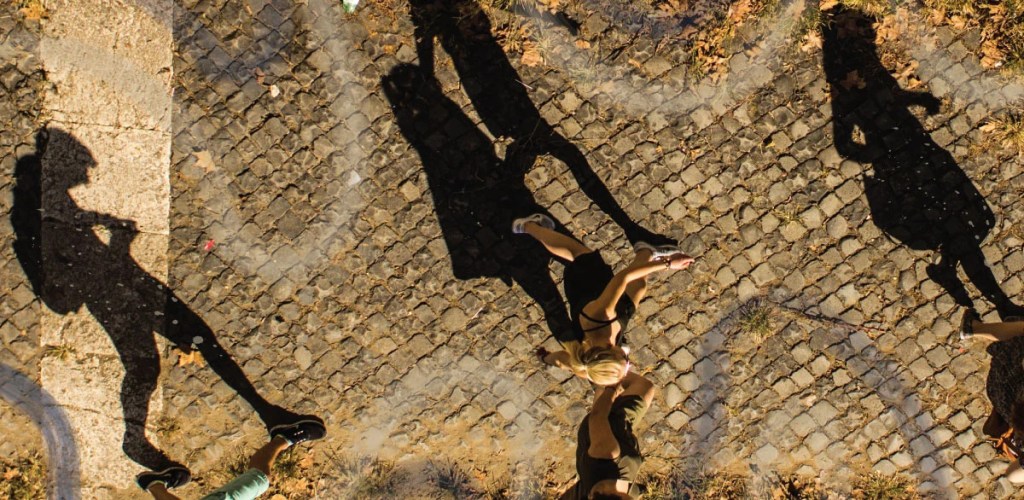 Anxiety, stress or any mental health disorder can be challenging enough for children and adolescents. When going to school—attending classes, focusing on lessons and doing homework—intersects with the instability and uncertainty that comes with homelessness, those feelings can intensify.
Times of crisis can pose more risks. Before the COVID-19 pandemic, the number of youth living with mental health disorders was already significant. More than 1 in 3 high school students reported experiencing periods of sadness and hopelessness in 2019, according to the Centers for Disease Control and Prevention's Youth Risk Behavior Surveillance Data Summary and Trends Report: 2009–2019 (PDF, 32.1 MB). During the pandemic, the prevalence of symptoms of anxiety and depression among children and adolescents worldwide doubled, JAMA Pediatrics reported.
For youth experiencing homelessness, closures and quarantines disrupted one stable, routine environment: school. In addition to challenges of living with homelessness, students had to find ways to connect with teachers, peers and Wi-Fi.
The National Center for Homeless Education (PDF, 1.8 MB) reported that in the 2018–2019 school year, 1.38 million students from preschool to grade 12 were experiencing homelessness. Children without housing have significantly higher rates of emotional, behavioral and immediate and long-term health problems, according to the Substance Abuse and Mental Health Services Administration (SAMHSA). The Facts on Trauma and Homeless Children (PDF, 271 KB) report from the National Child Traumatic Stress Network (NCTSN) indicates that risks of harm and loss of routines, privacy and sense of community can affect a child's mental health.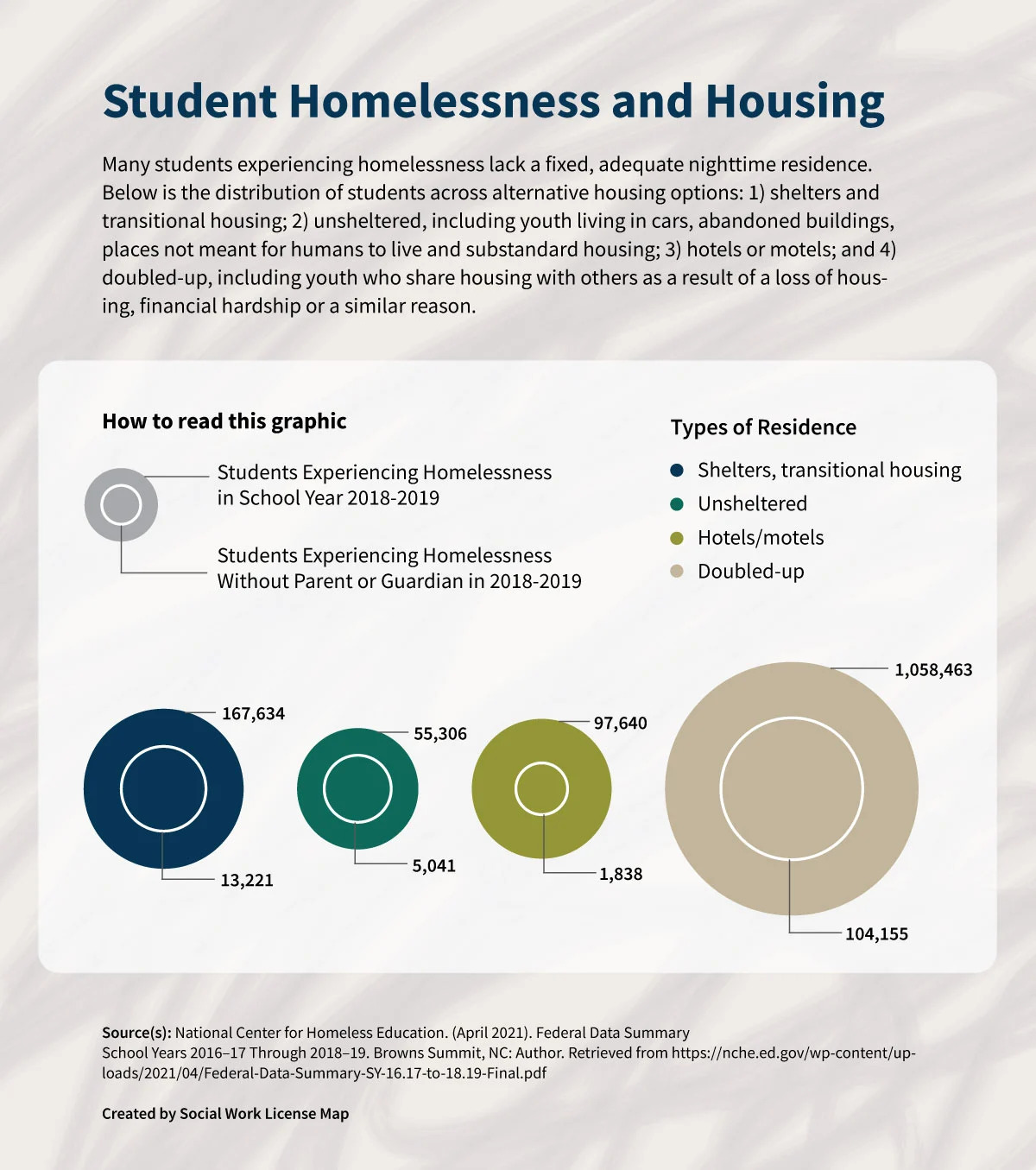 Go to data on students homelessness and housing.
Almost three quarters of students experiencing homelessness are doubled-up and sharing housing with youth in similar situations, and a tenth of them are navigating life without parents or guardians.
Homelessness and LGBTQIA+ Youth
LGBTQ youth have more than double the risk of experiencing homelessness than their non-LGBTQ peers, according to the independent policy research center Chapin Hall report Missed Opportunities: LGBTQ Youth Homelessness in America (PDF, 7.2 MB). The report also said that LGBTQ youth, who noted they were without housing largely because of family instability and frayed relationships, experienced more trauma and adversity than non-LGBTQ youth in similar situations. It also found that transgender youth were met with more severe and varied types of discrimination and trauma, including physical harm and exchanging sex for basic needs.
LGBTQIA+ students experiencing homelessness may benefit from counselors and social workers taking a holistic approach to understand the potential stressors that are uniquely affecting their mental health.
How Does Homelessness Affect Student Mental Health?
Increased rates of transfer and absenteeism are among the by-products of experiencing homelessness and may contribute to mental health challenges. According to NCTSN's report and the Institute of Children, Poverty and Homelessness (ICPH) Suicide and Depression Among Homeless High School Students (PDF, 215 KB), mental health disorders have significant effects on students experiencing homelessness compared to students with stable housing:
children experiencing homelessness has a major mental health disorder by the age of 8.
more suicide attempts are reported among unhoused students compared to housed students.
of unhoused students reported significantly higher rates of depression, compared to 27% of students with housing.
Depression can be compounded by contributing factors and negative effects, according to the ICPH. Increased risks of dating violence and bullying for unhoused students can lead to a higher risk of depression, which can also result in a greater likelihood of harmful behaviors such as alcohol and substance misuse.
Strategies for Supporting the Mental Health of Students Experiencing Homelessness
Teachers, school administrators and other adults can help in meaningful ways. Below are recommendations to support students experiencing problems with mental health and homelessness from SchoolHouse Connection, which works to overcome homelessness through education:
Prioritize mental health check-ins.
Be intentional about asking how they are feeling outside of calendar events, such as therapy sessions or support group meetings.
Have one-on-one talks.
Schedule regular conversations that provide space for meaningful discussions over the phone, on video chat or in person.
Organize group activities.
Invite students to participate in virtual game activities, outdoor concerts, sports or other events to promote peer support and togetherness.
Offer employment resources for older students.
Because structure can be important for some people, have lists of potential employers and guidance on applying for jobs.
Recognize and validate their experiences.
Provide safe spaces where students feel they can express themselves without judgment and build trust to ask for help
Share online resources related to self-care and mental health.
Ensure that helpful toolkits, articles and websites are available.
Mental Health Resources for Students Experiencing Homelessness
Use the links below to navigate to resources designed to help students living with mental health disorders who are experiencing homelessness.
Talk and Text Hotlines
Crisis Text Line: free mental health text support 24/7 for those who text "HOME" to 741741.
National Suicide Prevention Lifeline: free and confidential counseling 24/7 for those in suicidal crisis or emotional distress at 800-273-8255.
SAMHSA National Helpline: free, confidential, 24/7, 365-day-a-year treatment referral and information service (in English and Spanish) for people facing mental and/or substance use disorders at 800-662-4357.
Suicide Prevention, SafePlace: free text support for those who send "SAFE" and address of their location to 44357; response will provide nearby address where help will be available.
Teen Line: free peer talk line from a national organization on a mission to provide support before problems become a crisis available 9 p.m.–1 a.m. ET at 800-852-8336 and free text support by sending "TEEN" to 839863 available 9 p.m. to midnight ET.
Trevor Project – Reach a Counselor: free talk line counseling support 24/7 for LGBTQ young people in crisis at 866-488-7386 and free support 24/7 for those who text "START" to 678678.
Online Pages and Toolkits
Anxiety, HelpGuide: information on various types of anxiety disorders, their symptoms and coping tips.
Anxiety and Stress, Safe Place: tips for coping and other steps to consider when dealing with worry and stress that can affect sleep, appetite and the ability to concentrate and engage with others.
Dealing With Teen Depression, HelpGuide: overview of risk factors, common signs, symptoms and suggestions for coping with depression.
Facts on Trauma and Homeless Children, NCTSN (PDF, 271 KB): guide for shelter staff working with children and families experiencing homelessness and who have experienced trauma.
On Our Own: A Survival Guide for Independent LGBTQ Youth, True Colors United: guide for youth who are LGBTQ and aren't able to rely on their parents or guardians for financial support.
Organizations
American Foundation for Suicide Prevention: national organization with emphasis on personal experiences and connections to community programs.
Anxiety and Depression Association of America: nonprofit that provides articles, webinars and suggestions for help with anxiety disorders and depression.
Befrienders Worldwide: global network of support organizations dedicated to providing emotional support to prevent suicide worldwide.
National Alliance on Mental Illness: organization dedicated to supporting Americans affected by mental illness with information on local support groups, education programs and more.
National Eating Disorders Association: organization supports people affected by eating disorders while promoting prevention, cure and access to quality care.
Safe Place: National outreach and prevention program with locations nationwide for youth needing urgent help and safety.
Safe Place for Youth: Los Angeles-based organization that can connect youth looking for help with counseling, support groups, health screenings and more.
Teen Tribe: social support group for teens who are dealing with mental health struggles and/or difficult family dynamics.
The Trevor Project: suicide prevention and crisis intervention organization provides an online community, guides and articles for LGBTQ young people and their allies.
Resources for Providers
Center for Adolescent Health and the Law: organization that promotes the health of adolescents and young adults and their access to health care.
Health Coverage for Homeless and At-Risk Youth, Department of Health and Human Services (PDF, 212 KB): guide that explains eligibility, what services are covered and how to sign up for health care.
The Health and Well-Being of Homeless High School Students, ICPH: interactive tool with data on some states that may be used to compare risk behaviors and health outcomes of students experiencing homelessness with their peers with housing.
Homelessness and Adverse Childhood Experiences, National Health Care for the Homeless Council (PDF, 274 KB): information for clinicians to help them understand the role of Adverse Childhood Experiences (ACEs) in health outcomes as well as the options for responding when working with people experiencing homelessness.
Making Shelters Safe for Transgender Evacuees, National Center for Transgender Equality: guidelines to ensure safe shelter for transgender people.
Mental Health & Addictions Interventions for Youth Experiencing Homelessness: Practical Strategies for Front-line Providers by Sean Kidd, Natasha Slesnick, Tyler Frederick, Jeff Karabanow, Stephen Gaetz: book for providers who work with young people experiencing homelessness.
Supporting Homeless Transgender and Gender Nonconforming Youth, National Alliance to End Homelessness: toolkit with definition of terms and recommended activities to improve cultural competency.
Toolkit – Identity Development, ACT for Youth: guidance on how to explain identity development to adolescents.
Student Homelessness and Housing
| Types of Residence | Students Experiencing Homelessness in School Year 2018-2019 | Students Experiencing Homelessness Without Parent or Guardian in 2018-2019 |
| --- | --- | --- |
| Shelters, transitional housing | 167,634 | 13,221 |
| Unsheltered | 55,306 | 5,041 |
| Hotels/motels | 97,640 | 1,838 |
| Doubled-up | 1,058,463 | 104,155 |