Social Work Thought Leaders: Debbie Stabenow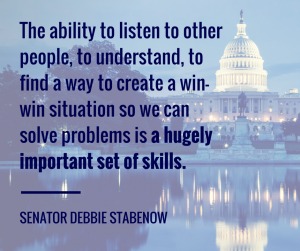 From their advocacy skills to their passion for justice, social workers make natural leaders. In this series, we profile social workers who are leading change on the national level as members of Congress. Meet the individuals who, with the social worker's firsthand understanding of public policy's impact on private lives, strive to support stronger families, schools, and communities.
Sen. Debbie Stabenow, of Michigan, has a message for social workers: Your experience matters. Your skills are valued.
A former social worker, Stabenow says, "The ability to listen to other people, to understand, to find a way to create a win-win situation so we can solve problems is a hugely important set of skills."
Stabenow should know. Since 2000, she's been using those skills to solve some of the nation's toughest problems.
Here's her story.
From MSW Student to County Commissioner
Inspired by her mother's nursing career, Stabenow always envisioned a career helping others. But while pursuing her Master of Social Work at Michigan State in the 1970s, her social work dreams took a related, broader turn. She learned her county commissioners were closing the only local nursing home then accepting Medicaid. Incensed that her community's low-income seniors would be denied care, she ran for the Ingham County Board of Commissioners.
Stabenow won by a landslide, and the nursing home was saved. She was just 24 years old. After two years, Stabenow was elected chair of the board of the commissioners — becoming the youngest person and first woman to hold the position. Those "firsts" would not be Stabenow's last.
Breaking Barriers, Leading Change
As she'd later say to Michigan's social workers , "Part of what we do as social workers [is] not only caring about the individual but caring about when they are impacted by policies, the laws and the community around them."
Determined to change state policies that were negatively impacting children and families, Stabenow went on to serve 12 years in the Michigan House of Representatives (1979-1990) and four years in the State Senate (1991-1994).
While serving in the state legislature, she wrote some of the nation's first laws strengthening domestic violence policies and child car safety. She also became the first woman to give birth while serving in the legislature.
In 1996, she was elected to the U.S. House of Representatives. She was re-elected in 1998. In 2000, she became the first woman elected to represent Michigan in the U.S. Senate.
A Champion of the Nation's Health
Since her election to the Senate in 2000, Stabenow has earned positions on several powerful committees including the committees on Budget; Energy and Natural Resources; and Finance. She's also the ranking member of the Committee on Agriculture, Nutrition, and Forestry. But it's her work on health care reform and mental health parity that perhaps best reflects her social work skills and passion.
"What motivates me every day … is to remember that every day 14,000 people get up in the morning with insurance that go to bed at night without it … because they lost their job," Stabenow said in an interview with NPR. "Five thousand people every day lose their home because of a medical bankruptcy."
Determined to change those grim figures, Stabenow:
Of all these issues, Stabenow is especially passionate about mental health parity and research. Stabenow explains, "My father, when I was growing up, was bipolar and nobody knew it. He was in and out of the hospital. He didn't get any help for years and years." Thanks to health reform provisions she authored, insurance plans must now offer mental health services at the same level as other health care services.
As Stabenow recently told Michigan social workers, "I am very proud to have an MSW and I can assure you I use the skills I learned every single day." The nation is lucky she does.