Social Work Thought Leaders: Barbara Lee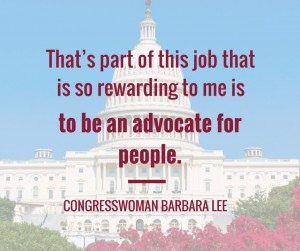 From their advocacy skills to their passion for justice, social workers make natural leaders. In this series, we profile social workers who are leading change on the national level as members of Congress. Meet the individuals who, with the social worker's firsthand understanding of public policy's impact on private lives, strive to support stronger families, schools and communities.
As a grassroots organizer for Shirley Chisholm's 1972 presidential campaign, Barbara Lee had no political ambitions of her own. An undergraduate psychology major at the time, Lee simply wanted to support a public servant who was committed to eradicating poverty and understood her struggles as a single, African-American mom raising two children. While she learned a lot volunteering for the first African-American woman in Congress, at the time Lee's priority was working to become a psychotherapist.
Evolution: From Social Worker to Public Servant
As Lee pursued her master's in psychiatric social work at the University of California, Berkeley, she began to see that social work was inseparable from public policy.
"I realized in my clinical practice as an intern that the mental health system was not a system that was responsive to women, single mothers, the poor, the African-American community," Lee said in an interview with the U.S. Capitol Historical Society.
So Lee decided to create a new model for mental health services while she was still in graduate school. She started a community mental health center geared specifically to the needs of the black community in south and west Berkeley.
There, Lee said she saw that many mental health issues stemmed from socioeconomic and political systems that "created a lot of the havoc that my clients were feeling in their lives." She saw the anger and depression that arise from not having a job or a place to live. And she empathized with those struggles both as a social worker and as a mother who had once been on public assistance. When progressive U.S. Rep. Ron Dellums offered her a job, Lee saw the opportunity for "changing some of these laws and these policies that are creating the negative environment and the havoc that the people have to live within their lives."
She took her passion for community social work to the national level.
People First: 'Is This the Right Thing to Do?'
Lee still refers to Dellums as "one of the greatest social workers in the world." From him, she learned to always make people the priority and "that, when a constituent needs help, the only question we should ask is 'Is this the right thing to do?'"
With this question as her guiding principle, she helped citizens navigate the federal bureaucracies standing between them and the services they needed — eventually going on to become Dellums' chief of staff and then a member of the California State Assembly and State Senate.
When Dellums retired from Congress in 1998, she ran for his seat with his endorsement. On April 21, 1998, she was sworn in as the representative of California's 9th Congressional district.
Social Work Values: A Conscience in Congress
Throughout her years in Congress, Lee says she's been guided by the values she learned as a social worker. She urges colleagues to "read that social work code of ethics because [it's] the standard that all of us as elected officials should use when we work on legislation that affects people's lives."
Fighting for the underserved, under-represented and vulnerable on multiple legislative fronts, Lee has:
Sought concrete, bipartisan solutions to eliminating poverty as a member of the Congressional Out of Poverty Caucus.
Led the fight to end the HIV and AIDS epidemic as co-founder and co-chairwoman of the Congressional HIV/AIDS Caucus.
Authored or co-authored every major piece of legislation dealing with the global HIV and AIDS crisis.
Wrote the legislation creating the President's Emergency Plan for Aids Relief (PEPFAR) and the Global Fund to Fight AIDS, tuberculosis and malaria.
Secured millions of dollars for HIV and AIDS prevention, education, treatment and care services in Alameda County.
Served as special advisor for orphans and vulnerable children.
Led bipartisan efforts to end ongoing genocide in Darfur and Sudan.
Known for her leadership skills, Lee is also the current Senior Democratic Whip, vice-chairwoman of the LGBT Equality Caucus, co-chairwoman of the Out-of-Poverty Caucus, and co-chairwoman of the Asian Pacific Caucus's Health Task Force. As the leader of the Social Work Caucus, she continues fighting today to instill social work values in public policy because, as she saw long ago as a graduate student, social work and public policy are inseparable.